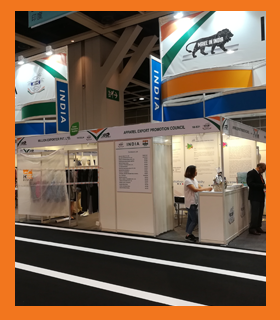 JOIN INDIA PAVILION AT HONG KONG FASHION WEEK SPRING/SUMMER 2018
Dates : 09th - 12th July, 2018
Venue : Hong Kong Convention & Exhibition Center, Wan Chai, Hong Kong
Perfect Hub for Fashion Sourcing
1097 exhibitors from 20 countries & regions and 12,000 buyers from 71 countries & regions shared the success of the fair.
Featured over 20 events including fashion parades, designers' collection shows, house shows, trend forecasting seminars, forums and networking events.
Renowned fashion labels visit HKFW – mega chain stores and major distributors such as the Czech Republic's ZOOT, Germany's Unito Fashion, Japan's Isetan, Russia's Melon Fashion Group, Taiwan's KERAIA, Thailand's The Mall Group, and the United Arab Emirates' JUST LOUNGE ,amongst others.
Hong Kong Fashion Week Fair is Biggest in Asia and second largest garment/fashion exhibition in the world & plays a key role in the city's fashion industry, enabling suppliers from around the world to promote their products and image to a global audience, as well as seek new business relationships and garner valuable industry intelligence HKTDC. Hong Kong Fashion Week for Spring/Summer is an unrivalled garment sourcing platform and style leader of Asia. It is the largest fair of its kind in Asia and has continued to bring the ultimate in style and value to trade visitors from all over the world.