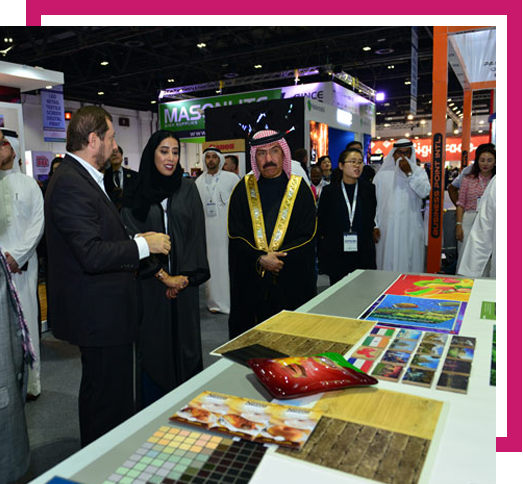 Welcome to SGI Dubai 2019
SGI Dubai 2020 is coming up with its 23rd edition, which is scheduled from 12th January 2020 to 14th January 2020 at the Dubai World Trade Centre. Being amongst the most anticipated trade events of MENA region for leading visitors and exhibitors in the graphic imaging and signage industries.
The upcoming edition of the trade event will be strengthening itself by introducing many new profiles under new segments, ranging from branding and labeling, metal and engraving, artificial intelligence, consumables and spare parts to software. The trade event will be bringing leading stake holders from across the Europe, Middle East, Asia and Africa. One could not ask for a better event to kick start 2020. Being the leading trade exhibition for signage, retail signage solutions, digital signage, outdoor media, screen and digital paint industry in the MENA region. It is immensely popular for its innovative techniques and huge in size heavy duty massive machines and equipment.
SGI Dubai 2020 will be bringing all the leading visitors and exhibitors across the world under one roof. The 2020 edition is expected to have more exhibitors affiliated with the car wrap industry showcasing the best of their product portfolio. Along with providing a platform to the exhibitors for displaying their products, services, techniques and ideas number of concurrent events will also be organized simultaneously, the set of these events, include Masters of Wrap, Wall of Fame, Knowledge series and Asian Print Conference.
Event Timing:
Day 1(Jan 13,2019): 10am -7pm
Day 2(Jan 14,2019): 10am-7 pm
Day 3(Jan 15,2019): 10am-5 pm
Event Date: 13 Jan- 15 Jan 2019
Event Venue:Hall 4,5,6,7 & 8, Dubai World Trade Centre, Dubai, UAE
Category: Signage, Graphic and Imaging Industry
The 21st edition of the show held in the year 2018 attracted participation of over 500 international and local brands from over 30 countries, and more than 12,500 visitors from around the globe. The dedicated show sectors were print, digital, retail, LED, textile, screen, fabricating & finishing.
The 22nd edition of the show is scheduled from 13th January to 15th January, 2019 in Hall 4, 5, 6, 7 & 8 at the Dubai World Trade Centre. Companies and individuals hailing from signage and graphic imaging industries consider SGI Dubai as the most-anticipated event of the year in the MENA region. Those related to the industry can mark the dates in their calenders.