Welcome to Imtex Forming -2018
IMTEX FORMING -2018 is organized by Indian Machine Tool Manufactures Association from 25th to 30th January ,2018 at Bangalore International Exhibition Centre,(BIEC), Bengaluru, India. Globally It is South and South East Asia's apex exhibition showcasing the latest trends as well as technological refinements from India and other global players. The mega event attracts visitors from a wide spectrum of manufacturing and ancillary industries including key decision and policy makers as well as industry captains who are keen to source latest technologies and manufacturing solutions for their product lines.
The concurrent show Tooltech will have newest range of forming tools, tooling systems, machine tool accessories, metrology as well as computer aided design (CAD) and computer aided manufacturing (CAM) software.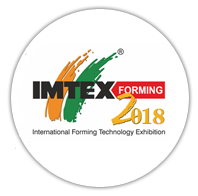 Exhibitors Profile

Presses
Presses for special applications
Sheet metal cutting machines
Sheet metal blanking, Punching machines
Sheet metal forming machines
Sheet metal working cells and systems
Die Casting
Forging
Extrusion
Metal spinning and flow forming
Rolling
Wire forming machines
Bar, Section and Tube working machines
Hydro forming
Casting & Foundry
Heat Treatment & Hardening
Machines for the production of Bolts, Nuts, Screws and Rivets
Joining & Welding
Robotics & Manufacturing Automation
Specialised Metal Forming Processes & Machines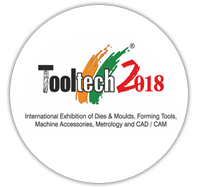 Exhibitors Profile

Tools for metalworking machine tools including press tools and dies Attachments, accessories and fixtures for machine tools
Measuring machines and instruments
Sensors and diagnostics
Portable electric or pneumatic tools
CAD/CAM - hardware and software
Testing and balancing machines
Hydraulic and pneumatic systems and equipment for machine tools
Lubricating oils and cutting fluids for machine tools













VISITORS PROFILE
MTEX FORMING 2018 & Tooltech 2018 will facilitate business-to-business cooperation between manufacturers and users of all hues connected to metal forming manufacturing technologies. The exhibits hold promise and significance for all levels of manufacturing organizations — be it CEOs, entrepreneurs, middle-level management, senior executives, corporate planners & strategists, R&D specialists, shop-floor engineers, supervisors, technicians, agents and dealers spanning across industries like:-

Aluminum Extrusion | Auto Components | Automobiles | Capital Goods | Defense |Earthmoving Equipment | Electrical and Electronics | Food Processing and Dairy Equipment | Infrastructure Sector | Job Shops | Material Handling | Medical Engineering | Office Equipment and Automation | Oil & Gas Equipment | Pharma Equipment | Plastics Processing | Process Plant and Machinery | Railways | Research and Development Organisations | Space and Nuclear | Telecom Equipment | Textile Machinery Sector | Tractors and Farm Equipment | White and Brown Goods | Windmill, Power and Thermal

Also:-
Academia and Technical Institutions | Members of the Diplomatic Corp | Policymakers
Back to top