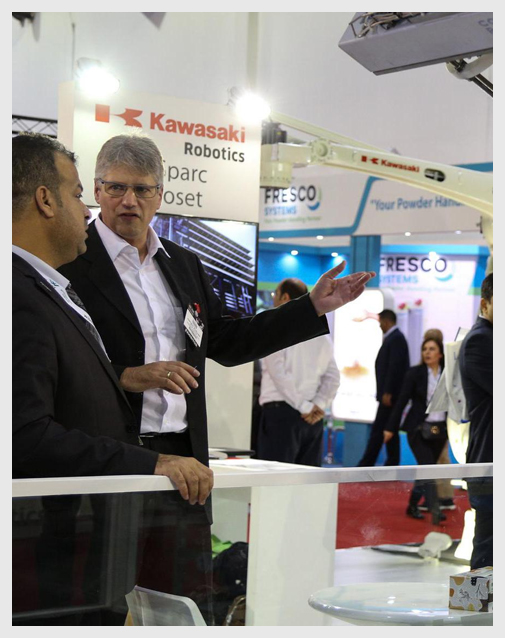 Welcome to Gulfood Manufacturing 2019
Gulfood Manufacturing is the MENA region's biggest food and beverage processing industry event which will connect you with suppliers from 60 countries showcasing the latest F&B manufacturing business improvement tools. The 2019 edition of Gulfood Manufacturing will host around 1,600 global suppliers of latest ingredients, processing, packaging and logistics solutions.
Who Attends
The show is attended by over 35,000 food and beverage manufacturers annually, who belong to all food and beverage production sectors including: Meat & Poultry, Seafood, Beverage, Bakery, Dairy, Confectionery, factories and production plants owners, distributors, online-food retailers and more. Visitor and buyer profile include engineers, food scientists, quality controllers, investors, wholesalers, product directors and manager.
Features & Networking
Gulfood Manufacturing 2019 will bring together the regional and global F&B manufacturing industry through three days of business-intensive events and features where F&B professionals will synergies knowledge, foster industry learning and grow more than ever before. The features for 2019 include Gulfood Manufacturing Foodtech Summit which brings together international F&B experts and industry leaders, Gulfood Manufacturing Meetings Programme the official one-to-one networking platform for exhibitors and visitors, Innovation Tours a guided tour, which enables visitors to experience the best of food production showcases, Manufacturing Advice Centre is an initiative from our Strategic Partner UAE Food & Beverage Manufacturers, Gulfood Sensorium a new addition, a multisensory journey which is paired by design and sound. First time at Gulfood Manufacturing, visitors will be able to explore the latest innovations in FMCG packaging at the packaging showcases, FarmCo. - Future of Agribusiness is a new conference held in co-location with Gulfood Manufacturing foodtech summit and ingredients global landscape whitepaper.