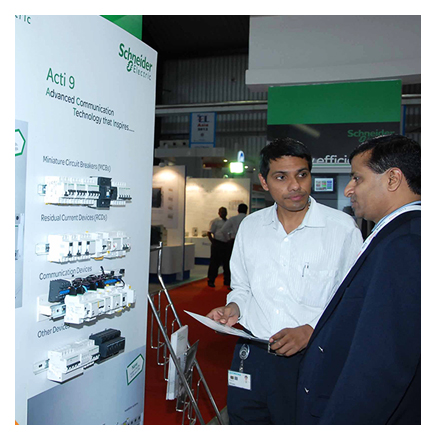 Exhibitors Profile
Equipment for Generation, Transmission, Distribution, Protection and Utilisation of Electrical Power such as Generators, Alternators, Motors & Motor winding Equipment, Transformers, Switch gears and Control gear equipment (like Circuit breakers, Isolators and Relays), Capacitors, Instrument transformers, transmission line towers, cables, conductors, insulators, Winding Wires etc. Capital goods and machinery required for manufacture of above products.
Industrial and Decorative Lighting Equipment, Luminaires, Fixtures and accessories,Switches, Street Lighting, Flood Lighting, Retail Lighting, Hospitality Lighting, Architectural Lighting, Home Lighting, Stage and Studio Lighting and other lighting related products. Light Sources, Lighting Controls, LEDs Electrical & Electronic Testing, Measuring, Process control, Instrumentation, Monitoring and Recording Equipments.
Industrial Electronics, Semiconductors, Sensors and micro systems, Electromechanical components and fixing technology, Passive components, Subassemblies and Subsystems, Displays / Display manufacturers, Production Technology and logistics for Circuit Boards and Switches, Subassemblies, Modules and hybrids. ED/EDA and measurement and testing Technology, Operating resources and Production subsystems Services.