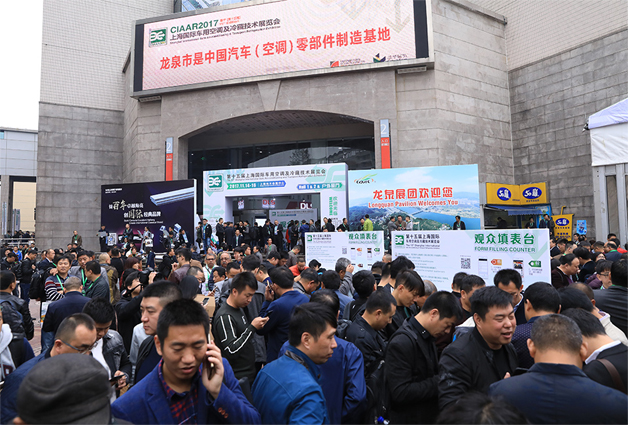 Welcome to Shanghai International Automotive Air Conditioning And Refrigeration Technology Exhibition 2018
The car industry in China is on the boom, which is leading the development of China's mobile refrigeration industry and its several links, like production, sales and post-sales. The strict low-carbon emission and environmental regulations are posing industries to innovate and upgrade to bring products that are environmental friendly. This testifies the huge future market potential. .
Shanghai International Automotive Air Conditioning And Refrigeration Technology Exhibition is an annually held, influential and professional exhibition dedicated to the mobile refrigeration industry. This special exhibition in Asia and worldwide attracts local and international buyers and suppliers from all facets of mobile refrigeration industry. The display of a variety of vehicle a/c products, mobile refrigeration parts, and refrigerated transportation equipment, draws the footfall of companies from the user industries, like engineering machinery, passenger vehicles, buses, refrigerated transportation, and refrigeration logistics.

In the last year's exhibition, 86% of the exhibitors concluded the exhibition from satisfactory to very fruitful, 91% graded the visitor quality from satisfactory to excellent, and 83% intended to exhibit in next edition. While, 90% visitors concluded the exhibits from good to excellent, 91% concluded the exhibitor quality from good to excellent and 92% concluded the exhibition from good to excellent.

The organizers, ITE Asia Exhibitions Limited, Shanghai Gehua Exhibition Planning Co., Ltd. and Shanghai ITE Gehua Exhibition Service Co., Ltd., are ready to host the 16th Shanghai International Auto Air-conditioning & Transport Refrigeration Exhibition, from 13th November to 15th November, 2018 at Shanghai Everbright Convention & Exhibition Center. The exhibition will cover 25,000 area of the exhibition center, where 500+ exhibitors and 10,000+ visitors from 49 countries are expected to reach at CIAAR 2018. The three new areas are: Bus A/C System and Accessories Area ; Vehicle Heat Management System and Accessories Area ; Refrigerated Transport Equipment and Materials Area. Companies can benefit from this highly efficient trading platform in expanding their markets and integrating their development.