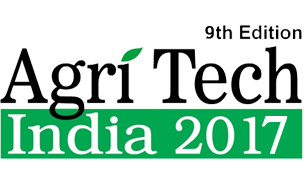 Date : 28-29-30 August 2017
BIEC, Bangalore, India
Concurrent Events 2017

Welcome To AgriTech India 2017
It is with great pleasure that we, Media Today Group is organizing 9th Edition of AgriTech India 2017 scheduled to be held during 28 – 30 August 2017 at Bangalore International Exhibition Centre (BIEC), Bangalore, India.

The exhibition proved to be one of the most significant platform of agriculture industry, where domestic and international companies and experts from the sector could review for a better projection of different agriculture concepts with technologies, as well as to make useful business contacts and joint venture opportunities.

The Netherlands, Turkey, Korea, Canada and China will be the FOCUS Countries of the exhibition.

The last edition , had the presence of over 400 national and international exhibitors displaying the latest products and technologies of approximately 1500 companies from 30 countries. The major participation was from Germany, France, Spain, Poland, Korea, Belgium, Thailand, Russia, Canada, USA, UK etc. The three-day expo saw an overwhelming number of visitors (35,000) from all over the globe.
Products / Exhibitors / Visitors Profile
Agricultural Machinery & Equipments
Tractor / Harvester / Rotavator
Fertilizers/Bio-manure/ Liquid Fertilizer Mfrs.
Agriculture Seeds Manufacturers /Exporters
Agro Chemicals/Pesticides/Insecticides Mfrs.
Biotechnology /Tissue culture Laboratories
Irrigation & Water Management
Greenhouses & Equipment Suppliers
Precision Farming Products
Climate Control & Automation Equipment
Planting Material /Seeds
Storage Equipment /Packaging Solutions
Dairy, Poultry & Live Stock
Nodal Government Agencies / Department
Farm Management Equipment
Banks & Insurance Services
Soil Testing Equipment / Certification Companies
Post Harvest Handling Equipment
Agri Business Consultants / IT services
Horticulture Supplies
Floriculture & Nursery Industry
Certification Agencies
Horticulture Processing Technology
Packaging Technology & Services
Bar code / Ink Coding Technology
Grading & Sorting Machinery
Wrapping, Sealing
Elevator / Conveyors / Rotary Separators
Cold chain Equipment for Perishable Produces
Cold room & Refrigeration Appliances
Cold storage Machinery & Services
Perishable Cargo Handling
Refrigerated Van & Trucks / Body Builders
Cooling Pads & Heat Extractors
Pack Houses / Warehousing / Surveyors
Digital Temperature Controller & Data Logger
Herbal & Medicinal Plants Exporters
Herbal foods products
Marketing & Export Services
Plasticulture Products
Aquaculture Technology
R & D Organisations
Plant Protection
Buffaloo Meat Products & Processing Technology
Researchers / Students
Professional consultants
Agricultural products traders/ Wholeseller
Scientists & Farmers
Magazines/papers/Books/Directories/ CD etc.